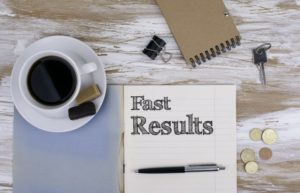 Do you feel as though your facial skin looks worn and wrinkled? BOTOX is a common cosmetic treatment that helps reduce the appearance of fine lines and wrinkles caused by tensed and bunched-up muscles beneath the skin, which can boost your confidence and self-esteem. BOTOX injections allow your facial muscles to relax, smoothing out any flaws that cause your skin to look worn-down. If this seems too good to be true, just wait until you hear about all of the other benefits that BOTOX treatment offers!
3 Reasons BOTOX Is So Popular
BOTOX is a popular cosmetic treatment among people of all backgrounds and ages because it's incredibly convenient. The treatment can accommodate even the busiest schedules, allowing you to achieve exquisite results without needing to clear the rest of your day's plans.
Fast Results
Patients are usually curious about how long they will need to wait before they begin to notice the subtle and delicate improvements of BOTOX. Because it doesn't use invasive medical procedures or scalpels, BOTOX results begin to appear within five to 10 days after the procedure, with the full effects of the treatment becoming visible after 14 days.
Long-Lasting Effect
The effects of BOTOX typically last between three and six months, depending on whether it's your first time receiving the treatment or not. Your facial muscles will gradually regain their tension, causing the lines and wrinkles to reappear. After multiple treatments, these lines often appear less severe. Patients who are getting the procedure for the first time typically notice that the results fade faster.
Quick Procedure
BOTOX treatment is often referred to as a "lunchtime facelift" because each injection only takes about 10 minutes. Depending on how many you'd like to have administered, appointments usually only last between 20 minutes to an hour.
Why Visit a Dentist for BOTOX?
Patients often wonder why they would visit their dentist for BOTOX treatment because they're seen as being able to only improve the health and look of your mouth. Over the last decade, dentists have been approved to administer BOTOX injections because it's seen as a natural extension of their work. They've spent countless years studying the ways each part of your mouth and face interact to function, which makes sense why they would be more than qualified to achieve beautiful results using this cosmetic treatment. Plus, patients who are receiving cosmetic dental procedures can easily improve their facial appearance alongside their oral health, making all of their aesthetic needs easily accessible under the same roof. Many dentists have been specially trained in administering BOTOX.
These are only a few of the many benefits that BOTOX has to offer. The best way to learn whether this cosmetic treatment can help you meet your appearance goals is to schedule a consultation with your dentist. They'll go over the treatment plan and discuss what you'd like to achieve so you can enjoy your confidence-boosting results as soon as possible.
About the Author
Dr. Melissa Warnick has over 20 years of experience helping her patients achieve beautiful aesthetic transformations with high-quality cosmetic dental care. She focuses on listening to each of her patients wants and needs so she can give them results that make them feel refreshed and transformed. She has completed extensive training in BOTOX and dermal fillers and is a member of the American Academy of Facial Esthetics. For questions or to schedule a consultation to learn how we can help you can turn back the clock on aging, visit Warnick & Semder Dentistry's website or call 304-722-2211. We have three convenient locations in Teays Valley, WV.